SIGN THE PETITION HERE


Recent News:

A new year, a new Apple:


Apple news? Is it possible? Sure, why not?!

The Daily News has posted this article about the new apple. It's bigger, shinier, less-dented, and faster. So it is what it is. The article seems to backtrack on the old Apple, which is worrisome but we have no reason to believe the Mets will not honor their statements to put the Apple out front of Citi Field.

Before this article was brought to our attention, we did a brief phone interview with Newsday which should be on your newsstands and internets tomorrow.


Posted by: Andrew @ 10:39:00PM UTC on Thursday, January 22nd, 2009

Reader Eric from California stumbled upon further information about the Apple. Apparently there was a media tour of Citi Field yesterday.

According to an article from the Star Ledger, "the old apple, we were told, will be on display on the concourse."

So, it's not impossible that the Apple could end up right back where it started, as we here at Apple headquarters are hoping.
Posted by: Andrew @ 08:03:55PM UTC on Wednesday, December 3rd, 2008
What we know has not changed much, but I've gotten a few e-mails so I figured I'd put up another post.

Allison points out that the NY Times has an article about the demolition of Shea where they very briefly mention the Apple:
The home run apple is being shined for its display outside the new stadium.

Astute reader John noticed the name of the company removing the Apple in the pictures posted below. I had also noticed this, but hadn't gotten around to calling until today. And what did they have to tell me? Very little, actually. They don't know what's happening with it. Please feel free to call them yourselves and if you can get different information, we'd love to hear it.

Keep checking back in and who knows, maybe we'll have some news for you. We're arbitrarily going to shut down the petition at the end of December. It seems like a moot point now and we're probably not going to send a physical copy of it to Wilpon unless people who signed strongly feel that we should - let us know your thoughts!
Posted by: Andrew @ 04:31:05PM UTC on Friday, October 24th, 2008
We're at a total loss here at SaveTheApple headquarters. We have no idea what to do, we're walking around like chickens with their heads cut off.

Yesterday afternoon we received an e-mail with the following pictures attached...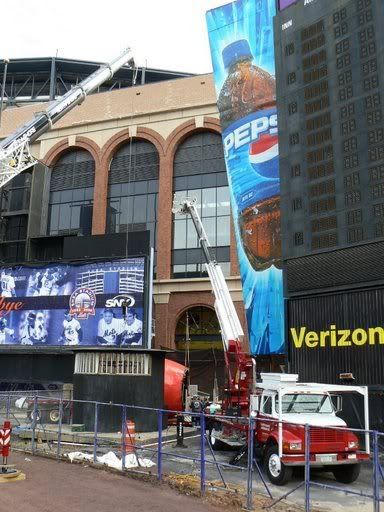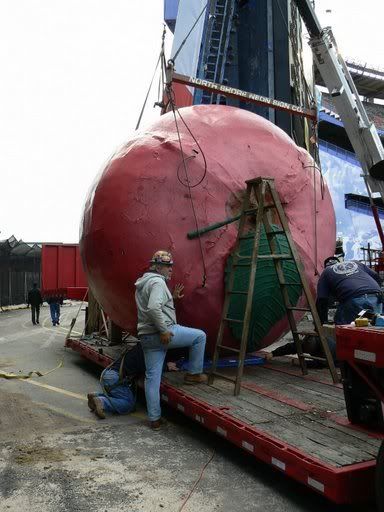 Credit: http://picasaweb.google.com/nsnsignco001

We don't know what to say. We don't know what's going to happen to the Apple (although it is certainly NOT too fragile to move...). We continue to hope that the Mets will leave the Apple where it was (maybe they're moving it for safety reasons while they tear down Shea?).B


And we'd like to take a moment to apologize to everyone. We only reached 9,000 signatures. A fine number, but we were aiming for much more.

But on to the apology. We are Apple fans, yes. Huge Apple fans. But we are Mets fans first. And the last two seasons just kept taking the wind out of our sails.

It is hard to run a campaign to save a giant fiberglass piece of fruit and have fun doing it, when the team that we love is failing each September, which is definitely not fun. How can we fight to Save The Apple when we're so preoccupied with hoping that the Mets can squeeze their way into the playoffs? And the answer is, we couldn't. We should've been to games all summer with signs and fliers and t-shirts and Cathie in an Apple costume, but the stink of last year never fully left this team, and we couldn't do it. And for that and for those of you who signed the petition, who truly wanted the Apple saved, we're sorry. We're truly sorry. We know we could've done more, and we didn't.

We don't know what next year will bring for the Apple, but this site will serve as a memorial to the Apple in the future.
Posted by: Andrew @ 09:24:15PM UTC on Thursday, October 9th, 2008
So, The Apple won't be rising when the Mets hit home runs next year. But according to a report in the New York Post, the Apple will serve some function at Citi Field.

That's good news. The Apple AND the scoreboard skyline(!!!) were two major items from Shea that are NOT going to be sold.

Now the question remains, where will the Apple be placed. If it's "too fragile to move" as we've heard previously, wouldn't it be really interesting if it ended up anywhere other than its current location?

Once again, we think it would be great to leave it EXACTLY where it is now. Perfect homage to Shea and let's us have our Apple.
Posted by: Andrew @ 04:04:53PM UTC on Monday, September 15th, 2008
Well, let's be honest, we tried damn hard, we got lots of press coverage, we went out to games, we sold a few t-shirts, and now it's time to say goodbye to the Apple.

There will be an apple. A new apple. We can't say we're surprised. I mean, really, if the Mets were going to Save the Apple, don't you think they would've already announced it to shut us up?

If you didn't already hear, the Daily News confirms what we've assumed for months.

We are pretty upset, even though we've felt that this was going to be the outcome for some time. So now it's time to turn our attention towards what to do with the Apple.

Last summer a blog mentioned their solution was not to Save the Apple but to leave it EXACTLY where it is. Well, the Apple's not moving, so we'd like to throw our support behind this idea. Mets officials, if you come here, please PLEASE just leave the Apple where it is. It's right next to the fan walk, it's a great location, 8900 fans have signed the petition begging to keep the Apple, give us something...
Posted by: Andrew @ 10:32:25PM UTC on Tuesday, September 9th, 2008